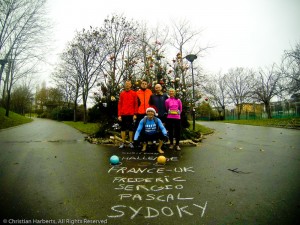 December 22, 2013 – Parc Suzanne Lenglen, Paris, France – Monkton Park, Chippenham, Angleterre – Tredegar House, Newport, Wales  –  : second TrailBall Challenge UK-France 5K Team.
4 teams vied for the best time on this distance, each team in its country.
Following, the race summaries, and results!
Continuer la lecture →
November 24 2013 – Lydiard Park, Swindon – Parc Suzanne Lenglen, Paris – : first official TrailBall event in England, on the first edition of the  5K International TrailBall Speed Challenge.
5 teams squared off in the two countries, each in their respective venue.  The level of play is simply remarkable.
Following, read about the races and find out who won!
Continuer la lecture →